News & Articles
Facts About Flying
Airline Safety from The Flight Safety Foundation
The Flight Safety Foundation is an independent, nonprofit, international organization engaged in research, auditing, education, advocacy and publishing to improve aviation and airline safety.

The Foundation's mission is to pursue the continuous improvement of global airline safety and the prevention of accidents.
The Foundation's objectives are to:
Pursue the active involvement and participation of the diverse elements of global professional aviation;
Anticipate, identify and analyze global aviation safety issues and set priorities;
Communicate effectively about airline safety; and,
Be a catalyst for action and the adoption of best airline safety practices.
The Foundation supports the efforts of other aviation organizations to improve flight safety and maintains ongoing communication with them. These organizations include the Air Line Pilots Association, International (ALPA), Air Transport Association of America (ATA), International Air Transport Association (IATA), International Civil Aviation Organization (ICAO), International Federation of Air Line Pilots' Associations (IFALPA), International Federation of Airworthiness (IFA), National Business Aviation Association (NBAA), U.K. Flight Safety Committee, and many others.
FSF support includes joint airline safety meetings, which have been held with IATA, IFA, NBAA, FSF–CIS [Commonwealth of Independent States] and the French National Academy of Air and Space. In addition to FSF–CIS, the Foundation is affiliated with other sister organizations in specific regions of the world to enhance aviation safety. These are Air Safety Foundation of Australasia, FSF–Japan, FSF–Southeastern Europe-Hellas, FSF–Taiwan, China and FSF–West Africa.


International Approach-and-landing Accident Reduction
The ALAR Task Force was created in 1996 as another phase of accident reduction.
Statistics compiled by the Netherlands Civil Aviation Authority show that, worldwide, an average of 17 fatal ALAs occurred each year in 1980 through 1998 in passenger operations and cargo operations conducted by aircraft weighing 5,700 kilograms/12,500 pounds or more.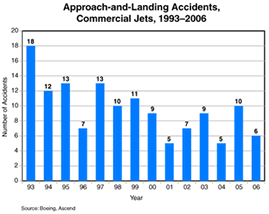 The goal of the FSF ALAR Task Force was to reduce by 50 percent the worldwide fatal ALA rate within five years of completing its work in 1998. The task force includes 100 representatives from airlines, corporate flight departments, aircraft and equipment manufacturers, civil aviation authorities, and many other technical, research and professional organizations.
The FSF ALAR Task Force began its work with assignments to four working groups:
The Data Acquisition and Analysis Working Group validated accident-prevention strategies based on analysis of 287 fatal-accident reports; detailed case studies of 76 accidents and serious incidents; and assessments of key flight crew behavioral markers identified in the accidents and incidents, and in line audits of 3,300 flights; The Operations and Training Working Group developed, from accident and incident data, eight conclusions about the major causes of ALAs and how to prevent them; The Aircraft Equipment Working Group examined how to make better use of equipment currently aboard transport aircraft to prevent ALAs; and, The Air Traffic Control Training and Procedures/Airport Facilities Working Group examined navigational charting, ground equipment and facilities standards, phraseology in communications between air traffic controllers and pilots, controller training and airline safety.